US warns Turkey over exports to Russia that could boost its war in Ukraine
February 5, 2023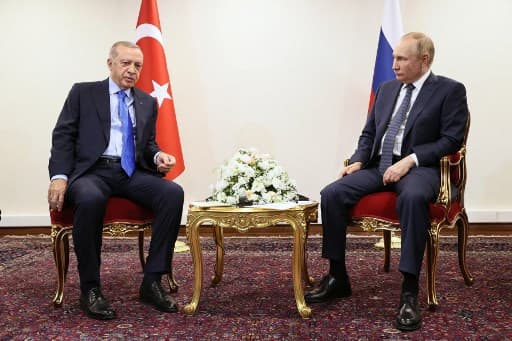 The United States has warned Turkey over its exports, including chemicals and microchips, to Russia which could boost Moscow's offensive in Ukraine which is nearing completion of one year. A report by the news agency Reuters on Saturday (February 4) said that US Treasury's top sanctions official Brian Nelson visited Turkish government and private sector officials on Thursday and Friday to urge more cooperation in disrupting the flow of such goods.
Nelson met with the Banks Association of Turkey to discuss the implementation of international sanctions on Russia for its war against Ukraine.
According to a statement issued by the US Treasury Department on Friday, he said, "We find ourselves in a particularly difficult moment—nearly one year from the start of Russia's illegal war in Ukraine; reckoning with economic inequities; facing mounting costs from global corruption, which corrodes societies and capitals around the world; and grappling with evolving threats like those from rogue states and terrorist groups."
Nelson said the marked rise over the past year in non-essential Turkish exports or re-exports to Russia made the Turkish private sector particularly vulnerable to reputational and sanctions risks. "Moscow is seeking to use increasing economic ties, which are not transparent, to exploit other jurisdictions and counter international sanctions," he added.
Nelson said that in engaging with Russian-sanctioned entities, Turkish businesses and banks could put themselves at risk of sanctions and a potential loss of access to G7 markets and correspondent relationships.
The top sanctions official further warned that Turkish businesses and banks should take extra precautions to avoid transactions related to potential dual-use technology transfers that could be used by the Russian military-industrial complex, according to Friday's statement.
Since the beginning of the Russian offensive in Ukraine on February 24, 2022, Turkey has maintained good ties with both countries. Brian Nelson's visit to Turkey is the latest by senior US officials aiming to ramp up pressure on Ankara to ensure enforcement of American curbs on Moscow. Nelson also urged Turkish bankers to carry out enhanced due diligence on Russian-related transactions and highlighted that Russian oligarchs continue to buy property and dock yachts in Turkey.
Before his visit, Reuters reported that Turkey's largest ground-service provider, Havas, told Russian and Belarusian airlines that it may stop providing parts, fuel and other services to their US-origin aircraft, in line with bans imposed by Western countries. And in September last year, five Turkish banks suspended the use of the Russian Mir payment. This came after the US Treasury targeted the head of the system's operator with new sanctions and warned those helping Russia against skirting them.

(With inputs form agencies)
You can now write for wionews.com and be a part of the community. Share your stories and opinions with us here.