Top Egyptian and Turkish diplomats hold talks in Cairo amid improving ties
March 19, 2023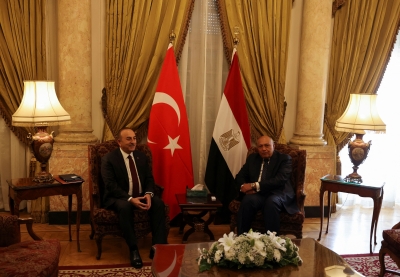 CAIRO, March 18 — Turkey's Foreign Minister Mevlut Cavusoglu held talks with his Egyptian counterpart in Cairo on Saturday, in the first such visit after a decade of ruptured ties.
Cavusoglu and Egyptian Foreign Minister Sameh Shoukry were expected to discuss a range of bilateral and international issues in a step towards restoring normal relations, according to statements from the two sides.
Ties between Turkey and Egypt were severely strained after Egypt's then-army chief Abdel Fattah al-Sisi led the ouster of Muslim Brotherhood's Mohamed Mursi, an ally of Ankara, in 2013. Sisi was elected president the following year.
The two countries have also been at odds in recent years over Libya, where they backed opposing factions in an unresolved conflict, and also over maritime borders in the gas-rich Eastern Mediterranean.
Consultations between senior foreign ministry officials in Ankara and Cairo began in 2021, amid a push by Turkey to ease tensions with Egypt, the UAE, Israel and Saudi Arabia.
As part of that tentative reconciliation, Ankara asked Egyptian opposition TV channels operating in Turkey to moderate their criticism of Egypt.
Last month, Egyptian Foreign Minister Sameh Shoukry visited Turkey in a show of solidarity after the massive earthquakes that killed more than 50,000 people in Turkey and Syria.
Mursi died in prison in Egypt in 2019. Other senior members of the Muslim Brotherhood are jailed in Egypt or have fled abroad, and the group remains outlawed.
Last month, Egypt's government, which has been struggling to manage an acute shortage of foreign currency, said Turkish companies had committed to US$500 million (RM2.2 billion) in new investments in Egypt. — Reuters