Erdogan and Egypt's Sisi to meet, says Turkish minister
March 19, 2023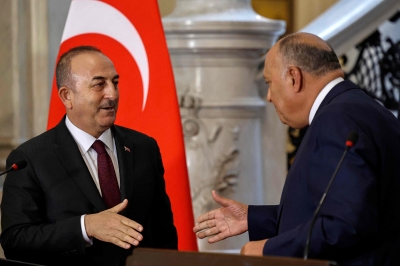 CAIRO, March 18 — Turkiye's top diplomat said Saturday President Recep Tayyip Erdogan and Egyptian President Abdel Fattah al-Sisi would meet to mark the end of a decade of estrangement between the two countries.
Turkish Foreign Minister Mevlut Cavusoglu, speaking alongside his Egyptian counterpart Sameh Shoukry during a visit to Cairo, said Ankara wanted "to restore diplomatic relations between the two countries at the highest level".
Cavusoglu's visit follows a trip last month by Shoukry to Turkiye in a show of solidarity after the devastating earthquake that claimed tens of thousands of lives in Turkiye and neighbouring Syria.
"It is possible that we will disagree in the future, but we will do everything to avoid breaking our relations again," Cavusoglu said.
Relations ran into trouble after the 2013 ouster of Egypt's Islamist president Mohamed Morsi, an ally of Turkiye.
At the time, Erdogan said he would "never" speak to "anyone" like Sisi.
But in November, Sisi and Erdogan shook hands in Qatar, in what the Egyptian presidency heralded as a new beginning in their ties, and the two leaders then spoke by telephone after the February 6 earthquake.
Cavusoglu today said the meeting between Erdogan and Sisi would take place "after the Turkish elections", including the presidential vote slated for May 14.
While diplomatic exchanges were once frosty, business never stopped: in 2022, Turkiye was the largest importer of Egyptian products totalling US$4 billion (RM18 billion).
But disagreements remain, with Turkiye home to Arab journalists critical of their governments, in particular Egyptian media close to the Muslim Brotherhood, a group outlawed by Cairo.
Cairo and Ankara also disagree over Libya, where Turkiye has sent military advisers backing forces opposed to Egyptian ally Khalifa Haftar, the eastern-based Libyan military strongman. — AFP