Australia: Neo-Nazis salute outside Victoria parliament building; state premier condemns it
March 19, 2023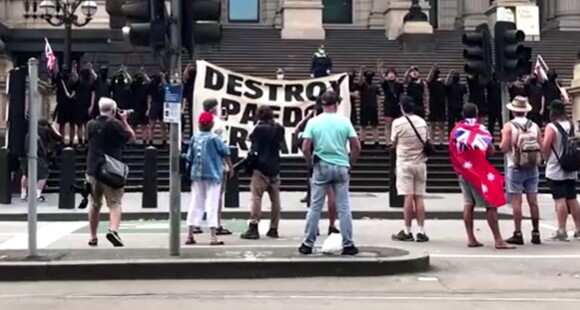 Several men dressed in black performed a Nazi salute on a flight of steps in front of Parliament House in Melbourne, Victoria on Saturday (March 18). Citing a report by the Sydney Morning Herald, the news agency Reuters reported on Sunday that pro-transgender rights activists clashed with members of the neo-Nazi group in Melbourne on Saturday after a British anti-transgender activist sought to address supporters at the city's parliament building.
A photograph of several men dressed in black performing the Nazi salute outside parliament was shared on social media. Speaking to Reuters, police said that there were around 300 protesters in total, with around 15 possibly belonging to right-wing groups.
According to eyewitness Aaron Craine, the salute was performed as a police officer pushed away former politician Andy Meddick, who was participating in a counter-protest with pro-transgender activists.
Craine said that an anti-transgender group initially began the rally, and there were no major clashes between them and pro-transgender activists with police managing to separate the two groups. The neo-Nazi group then appeared, saluting and confronting security as well as the pro-transgender group, the witness added.
Victoria's premier condemns salute
On Twitter, Victoria's Premier Daniel Andrews said the anti-transgender activists had "gathered to spread hate" in Melbourne. "But yesterday, anti-trans activists gathered to spread hate. And on the steps of our Parliament, some of them performed a Nazi salute," Andrews tweeted.
So to every trans Victorian, I say this:

Our Government will always support you.

And we'll always respect you.

Because your rights are not negotiable.

— Dan Andrews (@DanielAndrewsMP) March 19, 2023
Andrews said that these activists were there to say that the trans community did not deserve rights, safety or dignity. "That's what Nazis do. Their evil ideology is to scapegoat minorities – and it's got no place here. And those who stand with them don't, either," he added.
The premier further assured transgenders in Victoria that the government would always support and respect them as their rights are not negotiable.
In December last year, Victoria passed laws criminalising the public display of Nazi symbols in what the state government said was a move to stamp out antisemitism and hate, Reuters reported.
You can now write for wionews.com and be a part of the community. Share your stories and opinions with us here.