Climate activists across the US will on Tuesday blockade branches of banks that finance fossil fuels, cutting up their credit cards in protest and holding rallies featuring everything from flash mobs to papier-mache orca whales. Unusually for such a spectacle, the protests won't be led by young activists but those of a grayer hue.
The protests, across more than 90 locations, including Washington DC, are billed as the first set of mass climate demonstrations by older Americans, who have until now been far less visible than younger activists, such as the school strike movement spearheaded by Greta Thunberg. In a nod to the more seasoned age of participants, older people in painted rocking chairs will block the entrances to some of the US's largest banks to highlight their funding of oil and gas extraction.
"So far the kids have had to do all of the work and they've done an amazing job but it's not fair to ask 18-year-olds to solve this problem," said Bill McKibben, the veteran climate campaigner who co-founded the Third Act group last year, which is designated for people aged over 60. The group has gathered momentum, attracting more than 50,000 members and recently holding a test-run protest in New York City, where participants marched under a banner reading "fossils against fossil fuels".
"Older people have got money and structural power coming out of our ears," said McKibben, who is 62. "We have to show young people we have their back. I'm going to be dead before the climate crisis is at its absolute worst, but being nearer the exit than the entrance concentrates one's mind to notions of legacy and we are the first generation to leave the world in a worse place than we found it.
"I understand why people say 'OK boomer' – it's not like we have done an amazing job in protecting the world."
While polling has shown that fears over global heating are most prevalent among younger people, to the extent that some question the wisdom of having children themselves, McKibben said he has found "huge concern" among older people about the climate emergency.
"There is a sense people get more conservative as they age but I'm not sure if that's true of this group of older people," said McKibben, who pointed out that people in their 70s and 80s now were young people during the cultural upheavals of the 1960s.
"The people sitting on rocking chairs on Tuesday were marching on the first Earth Day in 1970," he said. "We probably all believed that the government would address these concerns – we may have gotten a little complacent."
McKibben said he hoped the protests would highlight the link between "cash in the bank and carbon in the air". Third Act is encouraging people to sign a pledge to quit Chase, Citibank, Wells Fargo, and Bank of America if they don't stop funding fossil fuels. The "big four" are the world's leading banking financiers of oil and gas projects, despite variously committing to helping address the climate crisis, with a recent report finding they have collectively provided $1.1tn in financing to fossil fuels since the 2015 Paris climate agreement.
The protests, despite their months of planning, appear to be prescient, coming in the wake of the collapse of Silicon Valley Bank, a leading funder of renewable energy projects, and a growing backlash against investor environmental, social and governance (ESG) considerations by rightwing groups and leading Republicans, many themselves funded by fossil fuel interests.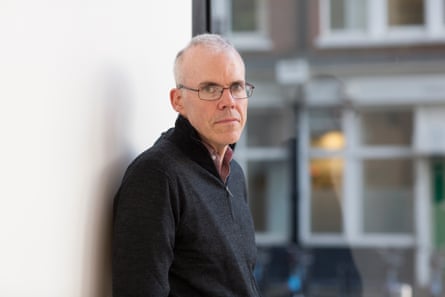 The previously bone-dry world of ESG, which is the effort to reduce investor risk to outside threats such as the climate crisis, has found itself thrust firmly into the US culture wars, with the governors of 18 Republican-led states, including the Florida governor and presumed presidential contender Ron DeSantis, last week jointly condemning the "proliferation of ESG throughout America" that is "putting investment decisions in the hands of the woke mob".
DeSantis has, without evidence, blamed the fall of Silicon Valley Bank on its diversity initiatives "and politics and all kinds of stuff", leading a concerted Republican effort to paint financial institutions as being in thrall to progressive priorities in the form of ESG. Marlo Oaks, the Republican state treasurer of Utah, said last week that ESG was part of "Satan's plan".
Joe Biden's first presidential veto is expected to be over the issue of ESG, following a successful attempt by Republicans in Congress to pass legislation that would have overturned an administration rule on sustainable investing. Biden's rule had lifted a ban placed by Donald Trump upon money managers considering ESG and the climate crisis in investment decisions, such as assets that could be damaged by extreme weather, or become unviable in a decarbonized world.
The furore over ESG has seen several Republican-led states draft legislation to ban consideration of the climate crisis in investments, despite the party's previous support for free market economics. The attacks on ESG have been "politically motivated", according to Amelia Miazad, a law professor and ESG market expert at the University of California, Davis, School of Law.
"ESG is about risk management and generating sustainable value but its critics have made it about values, which is easy to attack," she said. "The anti-ESG movement has just repeated a simple, inaccurate message over and over again. It's quite remarkable market meddling by so-called free market advocates, telling investors and banks what they can and can't invest in."
Miazad said that investors were now being "very careful" about mentioning ESG because it had become so politicized, instead favoring terms such as "sustainability". "There has been a chilling of corporate speech because of this ESG backlash," she said. "If they are worried about saying the c-word – climate – we are in a far worse place in terms of business norms, public discourse and democracy."