BBC Radio 5 Live
Shock and War: Iraq 20 Years On (BBC Radio 4)
Countered Terrorism (Audible Originals)
The Trust Race (Spotify)
Movers and Shakers (Podot)
5 Live made for a strange listen last weekend when its usual schedule collapsed – gradually and then all at once – as various football hosts downed headphones in solidarity with Gary Lineker. Though regular programmes went ahead at the beginning and end of the day, and there was live commentary on Premier League games and some Six Nations rugby, much of the weekend was filled with podcasts. By my reckoning, at least eight hours of programming was replaced.
The podcasts were OK. We were given footballing ones on Saturday, but by Sunday the schedulers gave up and just banged on six of the eight episodes of Sport's Strangest Crimes: Spygate. This came out last November and concerns – excuse me while I stifle a yawn – Formula One. Perhaps some listeners were enthralled, and rushed to BBC Sounds to finish off the whole show. I doubt it somehow, especially with Pete Tong's weird, Partridgey presentation. Anyway. BBC radio has always been great at covering up a presenter crisis, but 5 Live, as its name suggests, is about live action, developing-right-now stories, whether news or – at the weekend – sport. Pre-recorded shows are quite different; sort of… elderly. Nothing felt important or vital, except for the matches.
On Sunday, John Murray and Pat Nevin did their usual commentary for Newcastle v Wolves, with Nevin stating that he was only appearing because he was allowed to say what he felt. "We need clarification … we need a debate, there must be consultation, not just edicts from on high," he said; he also recommended that the NUJ and Bectu unions be involved. His short speech has been cut from listen-again coverage.
And, of course, Stephen Nolan remained. The regular host of the Saturday and Sunday night 10pm phone-in show was not about to switch off his mic. He's not a sporty type, plus his show is made in Northern Ireland, where half the population would resist the idea that football is a "national sport". Also, Nolan lives for a petty row. It gets him and his listeners going. "Well, if talks are moving in the right direction, when you decode that, the question is, whose direction is it moving in? Lineker's or the BBC's?" he asked, with gossipy significance, 5 Live's sole proponent of the life approach taken by the characters in Les Dawson and Roy Barraclough's Cissie and Ada sketches.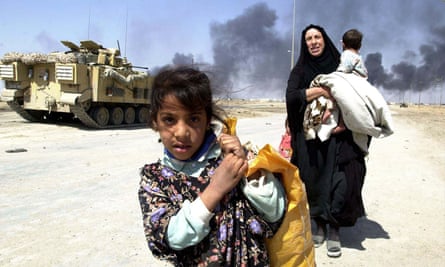 Enough of the BBC shooting itself in the foot. Shall we move on to the Iraq war? On Radio 4, an extremely interesting series, Shock and War: Iraq 20 Years On, has taken over the 15-minute post-lunch slot. In it, the BBC's security correspondent, the excellent Gordon Corera, gets to grips with how and why the George W Bush/Tony Blair-sanctioned conflict actually came about. This is a great series, sober, truthful, brilliantly researched, packed with I-was-there interviews. Corera, as you would expect, asks the right questions. To Tony Blair, he wonders whether there was "a sense that you were trapped by the process that was under way". Meaning: there were no weapons of mass destruction to be found, but the US was going to attack anyway, and we had to hold their hands and join in. "I was trying all the way through to find a way out," says Blair. "I was uncomfortable because I could feel that all the options [to avoid war] were closing." Essential listening.
Another show that's unpicking the past is Audible's Countered Terrorism. That great actor David Harewood is our narrator, apparently because he once played a CIA counter-terrorism director in Homeland. He gives the script some full-on actor-ing, but unfortunately this staginess provides an unreal feel, as though we are listening to fiction. However, the interviews are good – the one with an American IRA member is spooky, such is his calmness – and this is a revealing listen. Career hint: being an undercover agent is an absolutely thankless task.
Here are a couple of new podcasts trying to shed light on science. The Trust Race is an intelligent unpicking of how controversies have altered our trust in science. It starts, naturally enough, with Covid 19, and how mask-wearing became a political football almost as soon as the pandemic was acknowledged. Hosted by scientist Shane Bergin, a warm presence, and funded by an EU project called Peritia, the show explains why scientists could not, at the very start of the pandemic, give a completely positive steer on wearing masks (essentially, new science doesn't deal with hard facts, it's busy asking questions). An interesting listen that would benefit from a slightly more meticulous edit, this week The Trust Race tackles the HIV crisis.
And Rory Cellan-Jones, the superlative tech journalist who retired from the BBC last year, has a new podcast, Movers and Shakers, in which he chats in the pub about Parkinson's disease to other people who have it. Those people just happen to be a high court judge, the co-writer of The Vicar of Dibley, a couple of former BBC audio journalists and Jeremy Paxman. They are entertaining, clever, astonishingly self-assured company who would be a little off-putting if they didn't readily acknowledge their privilege.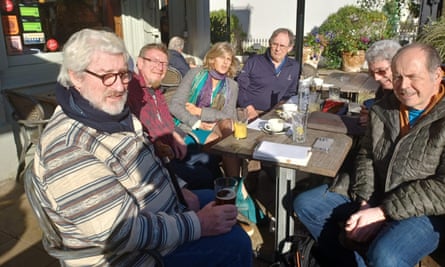 I learned a lot, in particular from ex-business type Gillian Lacey-Solymar, who explained how electric nodes inserted into her brain had greatly reduced her shaking. Scientific knowledge about Parkinson's is not great, apparently. "The medics are so useless," said Paxman, the show's Eeyore. "The only breakthrough in the treatment of Parkinson's was 60 years ago!" These smart high-achievers promise to include others, including medics, in their conversation, which will, you hope, bring some light and lightness of heart on a difficult progressive medical condition.