Russia-Ukraine war live: Putin visits Mariupol in first trip to occupied eastern Ukraine, says Russian state media
March 19, 2023
Vladimir Putin made a surprise visit to Mariupol, Russian state media reported on Sunday, in the Kremlin leader's first trip to the Russian-occupied territories of eastern Ukraine's Donbas region since the start of the war.
Reuters reported that the visit came after Putin travelled to Crimea on Saturday in an unannounced visit to mark the ninth anniversary of Russia's annexation of the peninsula from Ukraine, and just two days after the international criminal court (ICC) issued a warrant for his arrest.
Mariupol, which fell to Russia in May after one of the war's longest and bloodiest battles, was Russia's first major victory after it failed to seize Kyiv and focused instead on south-eastern Ukraine.
Putin flew by helicopter to Mariupol, Russian news agencies reported, citing the Kremlin. It is the closest to the frontlines Putin has been in the year-long war. Driving a car, Putin travelled around several districts of the city in the Donetsk region, making stops and talking to residents.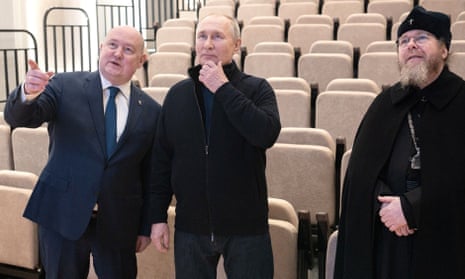 The Organisation for Security and Cooperation and Europe said Russia's early bombing of a maternity hospital in Mariupol was a war crime.
The Ukrainian president, Volodymyr Zelenskiy, has made a number of trips to the battlefield to boost troop morale and discuss strategy, but Putin has largely remained inside Russia during the war.
Russian media reported on Sunday that Putin also met with the top command of his military operation in Ukraine, including Valery Gerasimov, chief of the general staff.
A tweet from Ukraine's ministry of defence providing an update on a six-year-old girl injured during the conflict.
In response to president Putin's surprise visit to Mariupol, an adviser to Ukrainian president Volodymyr Zelenskiy said the visit to the city was tantamount to a perpetrator returning to the scene of the crime.

"The criminal always returns to the crime scene," Mykhailo Podolyak wrote on Twitter.

"As the civilized world announces the arrest of the 'war director' (VV Putin) in case of crossing its borders, the murderer of thousands of Mariupol families came to admire the ruins of the city & graves. Cynicism & lack of remorse."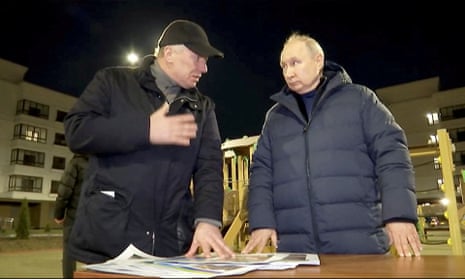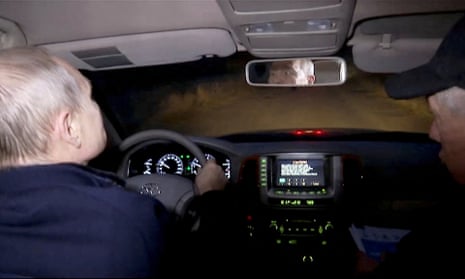 Three civilians have been killed and another two injured by Russian shelling of a village in Zaporizhzhia, according to posts on the regional military administration's Telegram.

It says that a residential building in the village of Kamyanske in Vasylivka district was targeted in a "cynical attack". The post warned residents to leave danger areas.

Ukrinform reports that in the last 24 hours there have been 10 reports of Russian shelling of residential homes and infrastructure.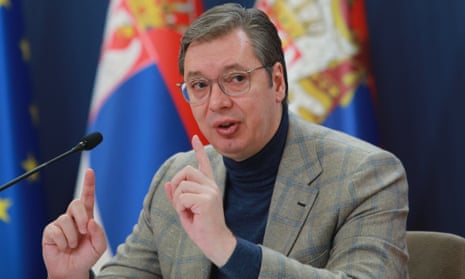 Serbia's president has attacked the decision to issue an international arrest warrant for Vladimir Putin, saying it will only prolong the war in Ukraine.

The warrant was issued on Friday by the international criminal court, and accuses Putin of war crimes, giving him personal responsibility for the abduction of Ukrainian children during the invasion.

AP reports that Serbian president, Aleksandar Vučić, who has previously boasted of his personal relationship with the Russian leader, told reporters in Belgrade on Sunday:
I think issuing an arrest warrant for Putin, not to go into legal matters, will have bad political consequences and it says that there is a great reluctance to talk about peace (and) about truce."

Do you really think that it is possible to defeat Russia in a month, three months or a year? There is no doubt that the goal of those who did this is to make it difficult for Putin to communicate, so that everyone who talks to him is aware that he is accused of war crimes.
My colleagues Isobel Koshiw and Anastasia Vlasova have told the heartbreaking story of headteacher Viktor Shulik and his son Denys from Bakhmut
But Viktor and Denys didn't just want to run – they wanted to fight. They were not the only ones in Popasna. At least 16 former pupils of Viktor's school signed up and are currently serving in Ukraine's army. At 57, however, Viktor – who had some military training but was too old to join the regular army – and Denys – who had no military experience – said they had wanted to stay together "as that way it would be less scary". So on 6 March, Valentyna walked Viktor and Denys to the military recruitment office for Ukraine's territorial defence forces, a sort of home army, in Bakhmut. Six months later, Viktor would be dead.
Ukraine's armed forces have released their latest estimate for war casualties, although we cannot verify them.
Ukraine's army now claims to have killed 164,910 Russian troops since the start of the war. Of these, they say 710 were killed in the 24 hours to Sunday morning.
They also report destroying eight Russian artillery systems since Saturday.