Pressure is building on the Rugby Football Union to produce more evidence that outlawing tackles above the waist at non-professional level from this summer will improve the game or make it safer. Criticism of the proposed trial has been widespread among amateur clubs nationwide with Mark McCall, Saracens' director of rugby, the latest high-profile coach to argue that more detailed research is needed.
The clubs believe they were not properly consulted in advance of the changes being voted through and moves are afoot to force a special general meeting to reverse the decision. Clubs in Staffordshire have already mandated their representative on the RFU Council to reverse his vote and others are keen to follow, upset that council members voted unanimously for the change without sufficient consultation.
It is understood a review of the decision is already planned at Council level next month, with current professional players and coaches adding their voices to the chorus of disapproval. "I'm not sure if the research is complete enough to say, as the RFU has, that lowering the tackle height is the right course of action," McCall said, echoing the disapproving verdicts of Ireland's captain, Johnny Sexton, and head coach, Andy Farrell, on Monday.
"Of course I agree with making the game as safe as possible but I'm not sure this is going to achieve that. It substantially changes the game as well. We're in the process of making it safer than it has ever been. I don't know if we need to go to the next step which the RFU has gone to. I heard what Johnny Sexton said yesterday and I agree with him."
Among grassroots clubs, with adult male player numbers already falling, there is considerable disquiet that the desire to reduce head collisions at elite level has resulted in such a radical change to the recreational game. So far the RFU has not responded to calls to provide further scientific evidence to back up the decision beyond a generally positive trial involving club players at level six in France.
McCall, however, has acknowledged that the head on head collisions which saw both Jamie George and Marco Riccioni yellow carded during Saracens' Champions' Cup pool game against Edinburgh on Sunday were down to faulty tackle technique which could have been avoided. "Those were two very poor tackle choices," McCall said. "It would be far better to go low in those two particular situations."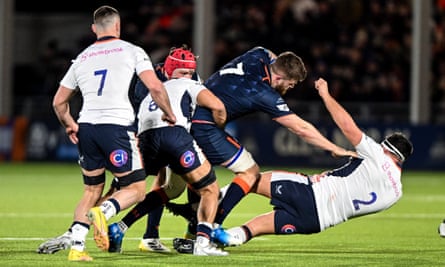 England are still hopeful George will be fit to face Scotland on Saturday week and ease the national team's concerns at hooker. Saracens' medical staff expect the player to be able to train fully next Thursday after completing all the necessary return-to-play protocols. "My understanding is he could fully train on Thursday week if all the boxes are ticked and can do non-contact training on the Tuesday," McCall said.
McCall also insisted "all the processes were followed correctly" when George was briefly allowed to return to the field on Sunday. "Jamie passed the HIA process with all the medics, both ours and the independent matchday doctor. Then, at half-time, the footage was reviewed and both medics decided he should come off. The process was followed correctly and we've been told that by [the tournament organisers] EPCR."
With three other hookers in Luke Cowan-Dickie, George McGuigan and Jack Singleton also now sidelined, Borthwick will be desperate for George to be available to start, with either Jack Walker of Harlequins or Newcastle's Jamie Blamire in reserve.
There is less encouraging news, however, about Elliot Daly, who is seeing a consultant to assess the full extent of the hamstring injury he sustained in Edinburgh, with Bath's Ollie Lawrence called up as cover. "They're trying to explore how serious the hamstring injury is," McCall said. "It would be cruel luck … he's done everything he needed to do to work his way back."