Police in Paris have banned gatherings on the central Place de la Concorde as thousands of demonstrators continue to protest across France against Emmanuel Macron's decision to force through a change to the state pension age without a parliamentary vote.
Protests were under way or planned on Saturday in cities including Bordeaux, Nantes, Marseille, Brest and elsewhere in Paris after unions called for a determined show of resistance ahead of a ninth day of nationwide industrial action planned for Thursday.
Macron resorted to controversial executive powers to force through his bill on Thursday after concluding the government was not certain to win a national assembly vote on the changes, which include raising the eligible retirement age from 62 to 64.
While legal under France's constitution, the move has infuriated opposition parties and led to spontaneous street protests, presenting the greatest challenge to the president's authority since the gilets jaunes (yellow vests) protests of 2018.
Refinery strikes escalated on Saturday and rolling strikes continued on the railways as Philippe Martinez, the leader of the CGT union federation, said Macron had been "warned that the situation was explosive. No one can say we didn't say anything; we told him."
In Paris, a 13-day bin strike is expected to continue until at least Tuesday, leaving more than 10,000 tonnes of rubbish piled high on the pavements in 10 of the capital's 20 arrondissements that rely on municipal, rather than private, rubbish collectors.
While the street protests have been largely peaceful, riot police fired teargas and clashed with demonstrators on Friday night in Paris, where 61 people were arrested after a fire was lit on the Place de la Concorde near the national assembly.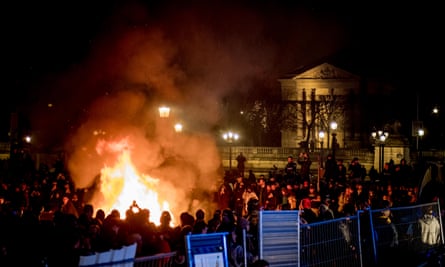 Fearing more trouble, Paris police on Saturday banned further gatherings on and around the square and the nearby Champs-Élysées opposite parliament, due to "serious risks of disturbances to public order".
In the south-eastern city of Lyon, 36 people were arrested on Friday night after trying to break into a town hall building and set fire to it, local authorities said.
Opinion polls have shown about two-thirds of French people oppose the pension changes, a central pledge of Macron's successful re-election campaign in 2022. He has said the changes are necessary to prevent the system from going bust in the future.
Although most European countries have already raised their retirement age to well past 64, critics in France say the changes are unfair on those who start working at a young age in physically hard jobs, and parents who interrupt their careers.
Opposition MPs have tabled two motions of no confidence in the government that are due to be debated in parliament on Monday afternoon, with the aim of garnering enough support to topple the cabinet and ensure the law is repealed.
The prime minister, Élisabeth Borne, and her government are expected to survive the votes, which, to succeed, would need the support of at least half of the MPs from the main centre-right opposition party, Les Républicans.
The party's leader, Éric Ciotti, has said it will neither table its own no-confidence motion nor vote to bring down the government – which would probably force a snap election – and only a minority of LR MPs are thought likely to rebel.
But even if Borne's government does survive, Macron has emerged from the episode politically damaged. With four years of his second and final mandate left to run, analysts have said it is difficult to see how he will continue with his reformist agenda.