Manchester United v Fulham: FA Cup quarter-final – live
March 19, 2023
62 min Fernandes's corner is headed behind for another, which he swings straight into the arms of Leno. The expected storm hasn't materialised yet, and Fulham are pretty comfortable.
61 min "Ah, Ralphie," says Simon McMahon. "Manchester United's worst ever signing, right? But Fergie knew a player when he saw one. Dundee United hall of famer. Won the league for Jim McLean's team at Dens the day after his 22nd birthday with one of the best goals you'll ever see. Remains our top scorer in Europe, when United were mixing it with the best. The Scottish Garrincha. Without the World Cup winners medals of course."
Or the international caps.
59 min Antony's first involvement is to kick Robinson off the ball. He might have been booked for that, although it wasn't the most vicious kick in the world.
58 min: Man Utd substitution Antony replaces Scott McTominay, which means Bruno Fernandes will drop deeper. Sancho has moved to the left with Rashford up front and Weghorst as the No10.
58 min The impressive Palhinha is fouled 30 yards from goal by Fernandes. It's too wide for a shot, and Pereira's overhit cross goes behind for a goalkick.
57 min Erik ten Hag is giving advice to Antony, who is about to come on as substitute.
56 min "United's lineup options today are as thin as gruel," says Ben Barclay, "but with Erik Ten Hag doling it out, I'm happy to say: 'Please sir, can I have some more.' (More Pellistri and Antony, less Weghorst and Sancho…)"
54 min Fernandes sidefoots wide from the edge of the area after a good cutback by Rashford. That was half a chance, and the goal appears to have woken United up.
There was a VAR check for a foul on Rashford, who was sandwiched between two Fulham defenders and stayed down after the goal. But it was just a natural collision, not a foul, and the goal stands!
Pereira's flat, outswinging corner from the right was flicked dangerously across goal by Diop, and Mitrovic cushioned a left-foot volley into the net from six yards. Fulham deserve that.
Aleksandar Mitrovic scores his first FA Cup goal!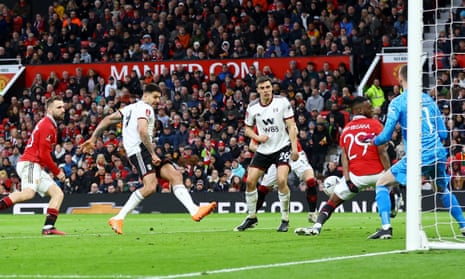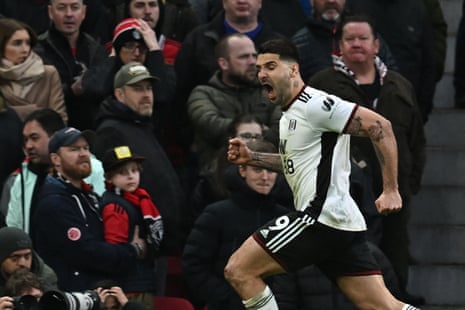 49 min: Excellent save by de Gea! The corner is only half cleared to Willian, who cuts inside Rashford and fizzes a curler towards the bottom corner. De Gea, who must have seen it late, dives full length to his left and fingertips it round the post. That's a lovely save, slightly reminiscent of Gary Walsh's stop from Dwight Yorke at Villa Park in 1994 (though not quite as good).
48 min: Good save from de Gea! Maguire's attempted clearance is blocked by Palhinha and ricochets to Willian on the left side of the area. He teases Wan-Bissaka and then drags the ball behind him for Robinson, who whips a right-foot shot that is pushed over by the leaping de Gea.
46 min The second half is under way, and there are no substitutions yet.
"Ha, ha, 'I should probably defer to his entirely superior judgement,'" says Shane O'Leary, quoting my comment about Erik ten Hag's love of Wout Weghorst. "You'd do well in the Kremlin, or the BBC."
I'm doing well at the Guardian, aren't I? Oh.
"The first half sums up the life of a supporter of a 'lesser' team perfectly," says Richard Hirst. "At Wembley 1975 and Hamburg 2010 I didn't mind that we lost, I was just amazed and delighted that we got there. Same here; I don't expect Fulham to win at Old Trafford, I'm delighted they are playing so well. (But if they do win …)"
You've had a few good wins at Old Trafford over the years haven't you? I say 'a few', I've just realised the only one I can remember is 2003-04. That was really impressive, mind.
"Charlton, Best and Law also playing blinders today," says Dean Kinsella.
Poor old Ralphie Milne is still getting abuse from the Stretford End though.
Half-time reading
"Weghorst," says Geertjan Wielenga, "is like a really tall man who wandered onto the pitch in coincidentally the right kit."
I can't quite get a handle on him. At times he looks out of his depth, but at others he produces some really classy, deft touches. And anyone who conceives that free-kick against Argentina in the World Cup is a friend of mine.
No goals, and no clear chances for either side. That aside, it was a veritable orgy of entertainment. Fulham were better for most of the half, particularly in midfield, but United showed signs of stirring just before the break.
45+2 min: Good block by Ream! Maguire forces a miscontrol from Willian high up the field, and Martinez fires the loose ball into Weghorst on the edge of the area. He lays it off first time to Sancho, who does likewise to the onrushing McTominay. His shot hits Ream and spins behind for a corner.
45 min Tete shoots well wide of the near post from distance. Two minutes of added time.
44 min Casemiro/Eriksen/Fred/Martial is having a great game.
43 min Palhinha's long-range shot is well blocked by Sabitzer.
42 min "Must say I'm surprised that Ten Hag prefers Weghorst to Pellistri, who to me has looked the business in his appearances so far this season," says Allan Castle. "Arsenal overwhelmed Fulham with zippy forward play last week… surely Pellistri would've offered more of that?"
They're completely different players, aren't they? I'll be honest, I don't see what Weghorst offers to merit starting every single game, but Erik ten Hag does and I should probably defer to his entirely superior judgement. I really like Pellistri though.
41 min Sancho plays a nice reverse pass to the overlapping Sabitzer, whose fast low cross evades Rashford near the penalty spot. I say 'evades', Rashford actually left it. Not sure why. There was a Fulham defender close by, though, so I suspect any shot would have been blocked anyway.
40 min Sabitzer pings a snapshot from 22 yards that is pushed away by Leno. It was sweetly struck but straight at the keeper.
39 min Fulham break dangerously through Mitrovic. He gets to the edge of the area and then walks straight into a classic Martinez tackle. Superb defending, which prompts probably the loudest roar of the match from the home fans.
38 min "Sad to see that the term 'crying wolf' (9 mins) has not been cancelled by your woke language controllers," says Ian Copestake. "It is clearly lupophobic and might be better termed 'Bruno-ing.'"
37 min Fernandes drops the corner right on top of Leno, who pushes it away under pressure from McTominay.
37 min Fernandes deliberately drives a very long cross towards Shaw, who is about to head back across goal when the backpedalling Tete nods it behind for a corner. Good defending.
36 min "We shouldn't be too hard on Weg The Peg," says Shane O'Leary. "Many years ago I was watching Chelsea play a Newcastle side led by a genially lumbering Malcom MacDonald. Said Malcom lumbered through the middle of relaxed Chelsea defence and put his laces through it from outside the area. The 'shot' bent soooo far left it went out for a Chelsea throw-in.
"In other news… I listened to an entire Bat For Lashes album yesterday, so earnestly awful it makes Weg The Peg seem like Pele. Come on you cottagers, and Fulham!"
I used to like her stuff, and now it's just guilt guilt guilt.
35 min United have a few attacking options on the bench, including Antony and Pellistri, and I suspect we'll see one of them as early as half-time. Sad to say that Jadon Sancho has again been anonymous, although that's no surprise given Fulham's dominance. He's far better in a possession team.
32 min A sharp pass from Martinez into Weghorst sparks United's best move so far. Weghorst and Sabitzer combine to find Rashford, whose shot from a very tight angle is blocked at the near post by Leno. Rashford's touch on the edge of the area was slightly heavy, hence the narrow angle.
31 min I should have said earlier that there are no replays in the FA Cup quarter-final, so this game will go extra-time and penalties if necessary.
31 min Robinson's curling cross is headed over from 12 yards by Mitrovic. The presence of Martinez meant he couldn't quite get on top of the ball, but it was still a half decent chance.
30 min The only criticism of Fulham's so far, and it's a not insignificant one, is that they haven't really created any chances. Everything else has been just ticketyboo.
29 min "United are playing like a group that has had a fixture every three days since the restart, with limited rotation from a first-season manager still trying to figure out his best setup," says Matthew Richman. "Yet another knock-on effect from a season of world football characterised by alleged bribery, fraud, and human-rights abuses.
"Yes, Qatar was a good World Cup on the pitch, but the subsequent football is yet another addition to the price paid. I'll be sickened if their bid for United makes good."
You know things are bad when the Glazers are the lesser evil.
26 min Harrison Reed, who has been terrific so far, is holding his right hamstring. That would be a blow for Fulham.
25 min Reed dances past two players and stabs a pass down the side of the defence towards Mitrovic, who goes down under challenge from Martinez. There was a bit of contact, but not enough for the referee (or VAR) to give a penalty. Mitrovic was looking for it, although it was still a risky challenge by Martinez. In previous seasons, certainly 2020-21, I think that would have been given.
23 min Rashford, near the left edge of the area, flips a really nice cross from a standing position that just evades both Sabitzer and Weghorst in the six-yard box.
21 min Maguire is booked for pulling back Mitrovic, which means he'll miss the semi-final one way or another. United are struggling here.