Richard Sharp's BBC chairmanship hangs by a thread over the assistance he gave to Boris Johnson when the then prime minister found himself in personal financial difficulties, and Sharp's application to become BBC chair was approaching the final stages. On Monday the chair told staff that "Our work at the BBC is rooted in trust", and that he looked forward to "continuing our work together". So should we trust him? And should he continue in the job?
We have been here before. Almost 20 years ago, the chair of the BBC was also a multimillionaire who had been a former partner at Goldman Sachs. His wife was a private secretary to the prime minister and the chair himself had been a donor to the political party in power, as well as a member of it, before he took up the BBC job. His director general too had been a member of, and donor to, that same political party, and he too had resigned from it before becoming DG. I speak, of course, of (Lord) Gavyn Davies, Greg Dyke and the Labour party.
However, one could hardly accuse the two men of going soft on the Labour government, since both decided to resign in 2004, following the Hutton inquiry into allegations made by a BBC reporter, Andrew Gilligan. He had reported that Tony Blair's government "sexed up" a report in order to exaggerate the weapon of mass destruction capabilities of Saddam Hussein.
How different is the case of Richard Sharp? He has been a significant donor to the Conservative party, was once Rishi Sunak's senior colleague at Goldman Sachs, and was economic adviser to Boris Johnson when mayor of London. He is also a former director of a rightwing thinktank, the Centre for Policy Studies. Nobody denies that he is very smart and has precisely the financial and business skills the BBC needs at the top table, though one wishes there were more creatives with public service experience up there with him. Before taking up the role, Sharp also said that he would donate his £160,000 salary to charity.
He has previous experience of public service, having been chair of the Royal Academy of Arts from 2007 to 2012, and those who have worked closely with him at the BBC seem largely impressed. Perhaps they were just relieved that they were not landed with Johnson's previous preferred candidates for the job, said to be the saintly, if otherworldly, former editor of the Daily and Sunday Telegraph, Charles Moore, an avowed enemy of the licence fee, and the decidedly unsaintly Paul Dacre of the Daily Mail.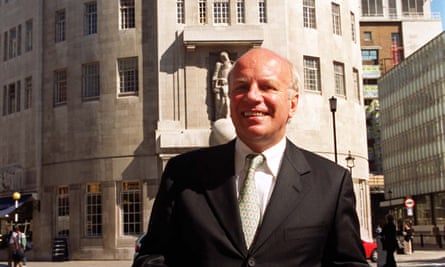 And yet, and yet. What on earth did Sharp think he was doing, getting involved with Johnson's private financial affairs? As a former senior BBC executive and BBC trustee, Richard Ayre, said, speaking on my podcast: "He applied for the job, knowing that his old friend Boris Johnson would decide who got it. While he waited for the result, he put Johnson in touch with someone who could help him borrow £800k. What's not inappropriate about that?" Sharp, meanwhile, says that he introduced his friend Sam Blyth, who was proposing to guarantee a loan to Johnson, to the cabinet secretary, Simon Case.
More important than the fate of Sharp is the critical need to change the way in which the BBC chair is appointed. As another former senior BBC executive, Roger Mosey, put it: "There's one major step in restoring faith in BBC impartiality and oversight. Stop making political appointments to the chairmanship. All governments have done it, but it simply shouldn't happen again".
No government is going to allow an avowed critic of their party to become chair, but when Gavyn Davies got the job, he was appointed by an independent panel. The governors morphed into the BBC Trust, but following more criticism, David Clementi, a former chair of Virgin Money and deputy governor of the Bank of England, was given the job of reviewing the governance and regulatory arrangements for the corporation and came up with the present structure of a single, unified board, with the chair firmly in control.
Crucially, and to my mind, unaccountably, he decided the appointment of this much more powerful chair should not be made by the industry regulator Ofcom, as is the case with Channel 4, but should be a direct appointment by the prime minister of the day. Following his report, Clementi was appointed to run the governance structure he himself had designed.
It is surely time that such an appointment was taken out of the hands of a prime minister and returned to a body at arm's length to government. Of course, the corporation has to report to parliament, and such an appointment should have to be ratified by a select committee, but an independent BBC needs to be seen to have an independent chair.
Sharp, if he survives, should try to refocus attention on the vital issue he was trying to highlight the day before this crisis broke: the parlous position of the BBC World Service, which desperately needs more resources to fight the battle against the Putins, Trumps and conspiracy theorists proliferating around the world. That noble cause would not be helped by a protracted process of finding a new chairman.
What should happen next? Give Sharp the yellow card he has earned – not a red – but crucially, learn from this and make sure a prime minister does not select his successor. And then let's get back to the vitally important business of defending an essential element of our democracy. It needs it.
Roger Bolton is a former BBC editor and executive, and presenter of Radio 4's Feedback. He presents the podcast RogerBoltonsBeebwatch
Do you have an opinion on the issues raised in this article? If you would like to submit a response of up to 300 words by email to be considered for publication in our letters section, please click here.