Pamela MacKenzie presides over an enviable array of fillings at Batty's Baps sandwich bar on Dingwall high street. "Kate Forbes has been very good for the area," she says. "We always get forgotten in the Highlands, even in the weather reports, but she gets things done."
Winter is not yet done with the north of Scotland and the pavements are edged with chunks of unmelted snow. But the warmth that locals feel towards their MSP, who represents the vast Holyrood constituency of Skye, Lochaber and Badenoch, and is now a frontrunner to succeed Nicola Sturgeon as leader of the Scottish National party, is palpable.
"The Kate that we know is always looking for an opportunity to help." At the end of the high street is the National hotel, where Gregg and Kathryn Brain reflect over coffee on the trajectory of the young woman who fought their deportation case "only minutes" after she was elected.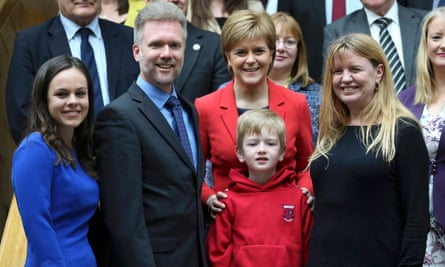 "She went from being one of the youngest MSPs to delivering the budget at a few hours' notice," adds Kathryn, recalling the moment in 2020 when Forbes stepped up to replace the disgraced former finance minister Derek Mackay, seeding her reputation for economic competence.
Despite their evident fondness for Forbes, the couple, both SNP members, have still to decide who to support in the leadership election. The choice is between Forbes, who is promising a "reset" but lost prominent backers when she set out her opposition to same-sex marriage and abortion as a member of the socially conservative Free Church of Scotland, the health secretary, Humza Yousaf, who enjoys the majority of support from MSPs and is regarded as the continuity candidate, or the outlier Ash Regan.
The Brains represent a significant minority of undecideds who are key to a contest described as existential in terms of its impact on the party's future ethos, policies and independence strategy.
It was this group that Forbes appealed to directly on Saturday, as the party descended into turmoil when its chief executive – and Sturgeon's husband – Peter Murrell quit along with the media chief, Murray Foote, in an escalating row about transparency over party membership figures.
Forbes promised to "restore trust and transparency" to the party's internal dealings, but Ken Gowans, a councillor for Inverness South and party member for half a century, says "her honesty, integrity and ability to communicate with a range of people" extend her appeal well beyond the membership: "If you look at the polling she is the candidate with the backing of the general public."
While he insists there's "no such thing as a typical SNP member", he also advises ignoring noisy online endorsements: "What's missing on social media is the broad swathes of moderates in the middle and they will be the ones who decide."
The finance secretary, still technically on maternity leave, spent much of her childhood in Dingwall, a town north-west of Inverness, and is now raising her baby daughter with her husband, Ali, in a nearby hamlet.
All agree she enjoys a local advantage – some members say they are surprised how many find her social views less jarring because they know her; others suggest her fluency in Gaelic gives her a direct connection to thousands of people, particularly on the west coast.
There's a distinct frustration among Highland SNP members that the leadership contest has not looked far enough beyond the central belt, a reflection of Sturgeon's "urban-based, central Scotland" approach. A Gaelic-speaking Highlander in Bute House would bring sharper focus to rural concerns such as public transport, ferries, depopulation and the lack of affordable housing, they believe.
But while these members face geo-specific challenges – one is struggling to make the 100-mile round trip to the nearest hustings after writing off his vehicle in an accident with a deer – they are also wrestling with the same issues as members across Scotland.
Sturgeon was so popular for so long, some members are still reeling from her resignation, suggests one, but the clear differences between the two frontrunners on economic and social issues have "energised" and "refreshed" the membership. Others have found attacks on Sturgeon's record by Forbes and Regan, and their hints at impropriety in the ballot process last week (which were derided as "Trumpian" by colleagues), to be "hugely disappointing".
Some believe that the party can continue as a "broad kirk", uniting differing views beneath the independence umbrella. But younger members in particular say they have had to discount Forbes because of her position on LGBTQ+ equality, while others praise her insistence that transgender law reform is not a priority for most voters.
Sue Lyons, who set up the Highland branch of Women for Independence during the 2014 referendum campaign and is supporting Humza Yousaf, is worried about potential fractures.
"The framing of Kate's views as matters of conscience does not take into account how fundamental those issues are to me. I'm just not sure I could stay in a party that's not full-throated in its commitment to equality and abortion rights."
Others dispute the terms. "It's interesting that as soon as you are business-minded you are described as rightwing," muses architect Neil Sutherland, the director of Inverness-based green construction firm Makar where Forbes held a recent campaign visit. "Kate has been speaking about wealth creation, which is critically important for Scotland that has been economically dulled down and has so much more potential."
Sutherland is also one of those who suggest that Forbes's faith-informed views are treated with more pragmatism in the Highlands, where the integration of church and community means people find ways to rub along out of sheer necessity. Likewise, Kathryn Brain describes how locals of all faiths and none rallied to support her family. There is certainly a protectiveness around what some interpret as urban condescension about Highland belief.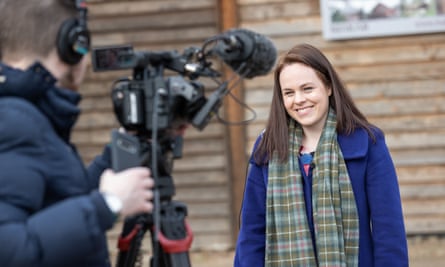 "The contemporary church is very different from the perception," says Rev Calum Iain Macleod, a minister at Ferintosh and Resolis Free Church, who officiated at Forbes's wedding in 2021. "Every church community has its ecclesiastical DNA but we recognise we are ministering in the 21st century."
While Forbes has been heavily criticised for her previous opposition to women's ordination in the Free Church, Macleod says the current congregation of up to 100 includes women in the music group and the welcome team, while the pastoral support group is run by female members. "In terms of equality, it's a very balanced ship." While there are no gay members, "as a church community we would never exclude anyone".
Although Forbes pre-recorded her interviews with this week's Sunday politics shows, Macleod insists the church has moved on from a strict Sabbatarian mindset. "It's just common sense. I don't think Kate will be switching off her phone on Sundays."