After being born into homelessness, Phillippa Marlowe-Hunt, 42, continued to spend most of her life sofa surfing as a young adult. Next week, 20 years after her last night sleeping rough, she will sing opera to hundreds of people at London's Southbank Centre.
Phillippa is one of about 100 people with experience of homelessness who will perform alongside the BBC Concert Orchestra and the Sixteen choir as part of Streetwise Opera's Re:sound programme.
Three casts, made up of people from Nottingham, Manchester and London, will take to the stage in major venues in their respective cities before coming together for a final performance at the Southbank Centre's Royal Festival Hall.
Each show will contain nine micro-operas, co-written by local people who have formerly been homeless, and will feature stories about the regions in question, with references to Manchester bees, mushy peas and environmental protests in London.
The performances will take place in front of an animated backdrop produced by the theatre company 1927, which was designed during workshops with Streetwise Opera participants.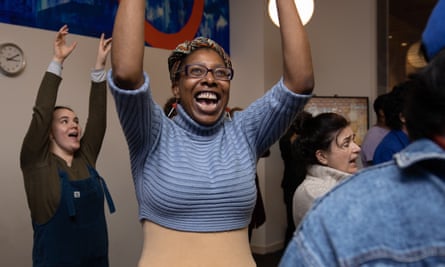 The initiative, introduced by Streetwise Opera, aims to inspire and empower formerly homeless people as they rebuild their lives and to change how homelessness is perceived in society.
"It's very common that when someone is homeless they lose their self-esteem because they're treated in horrible ways," says Rey Trombetta of Streetwise Opera. "A lot of people walk around the streets and won't even engage with a homeless person, and then suddenly they see them on the stage of the Southbank Centre; we hope it's going to change their perception of people who are homeless and show that they can help build a world that is more beautiful."
Collaborating with world-class musicians and conductors in the field, the organisation aims to reimagine traditional repertoire in a way that makes the medium more diverse and inclusive.
"At least in this country, a lot of people think that opera is not for them; it's for the elite, the rich, the people who speak several languages," said Rey.
"If people who are homeless or live in poverty can engage with opera and take ownership over it, it sends a very powerful message about what opera can be. Whoever wants to own it can, as long as they have the right support," he said.
Since finding Streetwise Opera through a recovery college six years ago, Phillippa has found a supportive network of like-minded people and has noticed improvements in her confidence and self-esteem.
"People always told me I couldn't sing but here I'm finally finding my voice," she said. "Performing with Streetwise makes you feel like you're somebody, you're noticed."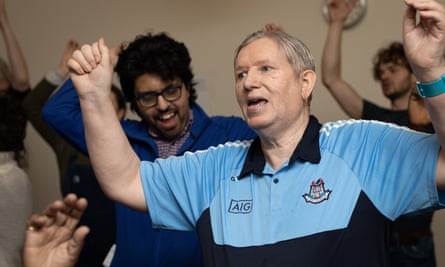 Brian Ward, 64, has now been singing with the group for 11 years and said the opportunities to perform had made him a "better person".
He spent the best part of 10 years between a cardboard box in a London garage and hospital due to a lack of nutrition. With no prior experience of opera, he was initially shy about getting involved but soon found himself getting "better and better all the time".
"I'm very happy to be part of the group," he said. "It's a great experience to sing with others I've not met before and to learn songs about the city I come from. And you feel part of something, there's people here you can trust."
He said his newfound hobby also helped to eradicate his depression and anxiety. "I'm so proud of what I'm doing with the group, it's changed my life for ever."
Re:sound is a year-long festival that encourages artists and audiences to rediscover the cities they live in, through the perspectives of people who have been homeless.
Streetwise Opera has been running regular singing and creative workshops in London, Manchester and Nottingham since 2002. Alongside the sessions, which take place in homeless shelters and arts centres, the organisation has hosted a series of online and stage productions, including at the Royal Opera House.
Across 2020-21, the organisation delivered 1,341 activities to 226 people who had previously lived on the streets.