Mary McCoy has broken her neck, had multiple bouts with Covid-19 and grieved the deaths of two husbands. But none of that could get the 85-year-old off the airwaves she has been on for more than 70 years. The transition from vinyl to purely digital control panels was no match either.
"I have seen it all," the radio presenter from Texas told the Guardian, weeks before the end of her 72nd year in her role. "And you know what? I don't plan on stopping anytime soon."
Guinness World Records has confirmed McCoy as the longest-serving female radio disc jockey. She passed Maruja Venegas Salinas of Peru, who died in 2015 during her 70th year as a host.
Such recognition has given McCoy and her loved ones the occasion to reflect on a remarkable journey. It began with a childhood dream of breaking into the entertainment business – dreamed even as she and her family briefly lived in a tent without running water or electricity. Some of music's biggest names have entered her orbit, winning her a loyal audience in her Houston-area community.
"She's been through adversity, she's been through pain, and she keeps going," said her longtime co-host, Larry Galla. "And she keeps going. It's just amazing."
McCoy was born on a farm in east Texas. Her family soon climbed into their Ford Model A and moved about 200 miles south-west to Conroe. There, about 40 miles north of Houston, life was lived without frills.
McCoy took breaks from life in the tent by learning how to yodel. She joked that her father probably wanted to strangle her but she became quite skilled. When she was 11, she signed up for a talent show at a local theater. Performing the Patsy Montana yodeling classic I Want to Be a Cowboy's Sweetheart, she won.
The manager of a new radio station, KMCO, learned of the performance and called her school, inviting her to a recorded audition. McCoy borrowed a guitar she said was "three times" as big as her, took a bus ride and performed. The manager asked if she knew enough songs to play a 15-minute program.
McCoy said she did, so they recorded a show. McCoy recalls crying when she heard herself on the air. She "thought it was the worst thing I'd ever heard – I thought I'd never go back and my career had ended". But the manager called back and said KMCO had picked up a sponsor for her program, which would go out on Saturdays.
McCoy was delighted. Eventually, she convinced the manager to let her host a show. She simply played 78rpm records by the country artists to whom she listened. That was where the McCoy everyone in her community now knows began to take shape.
She had on fabled singer-songwriters including Jim Reeves, Hank Locklin and Sonny James. She toured, sang and played the guitar with artists like James and Slim Whitman. She landed a spot on the Louisiana Hayride tour, which came to Conroe in 1955. On that stop, she performed alongside a rising musician named Elvis Presley.
That night proved to be among the most memorable for McCoy. She recalls driving Presley to KMCO for an interview and how he hit his head on the way to the performance stage, then played with a visible bump on his forehead. She remembers he wouldn't stop talking about his mother, who he clearly adored. She remembers how he asked her out for a meal but she passed, nodding at a line of girls nearby: "I think you have enough to keep you company."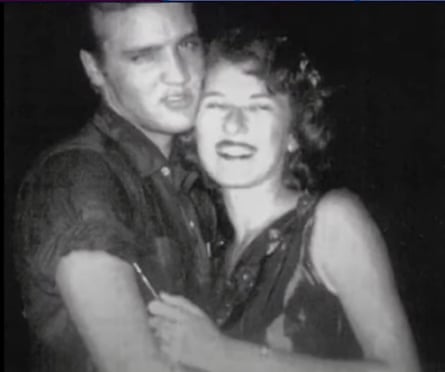 Other episodes in McCoy's career could fill a book with ease.
One of her favorites came in 1965, when she performed as a last-minute substitute at a prison rodeo. After she and Roy Acuff sang, organizers let loose some bulls. It was part of the show but it scared her. McCoy tried to climb out of the rodeo ring but couldn't because the dress she performed in was too tight. She asked some clowns to help her up. She remembers them hugging and even trying to kiss her, smudging her with their face paint.
It wasn't the only time she had to put up with boorish behavior. Rigby Owen Jr, who bought KMCO and renamed it KIKR, said McCoy has long sold the advertising for her shows. Businessmen, he said, viewed meetings that McCoy as chances to see if she would spend personal time with them too.
"They tried everything," Owen said. "But it would end with her fighting them out the door while at the same time she's writing the [advertising] order they bought."
McCoy was too strong to let anyone on the sidelines get in her way. And weightier matters didn't get in her way either. The mother of four and grandmother of eight has buried two husbands but worked on through it all.
In 2013, she suffered a fall. Doctors diagnosed a fractured neck, performed an eight-hour surgery and sent her home to rest on a hospital-grade bed, wearing an elaborate head brace she said made her look "like Frankenstein".
By then, 78rpm records had given way to 45rpms and in turn CDs, before everything ultimately went digital. McCoy said she had minimal understanding of the technology that now runs her industry, but knew she could co-host her show from home if she had to. So she did, with help from colleagues at the station now known as K-Star.
A similar plan let her stay on the air each of three times she has caught Covid-19.
"That shows you how much I love this," McCoy said.
She was inducted to the Texas country hall of fame in 2010. In Conroe in 2014, she was added to a wall of local legends. Images since added to the mural include Roy Harris, a boxer who challenged Floyd Patterson for the world heavyweight championship, and the Pulitzer-winning historian Annette Gordon-Reed.
To see if McCoy had a shot at the Guinness World Records, K-Star enlisted the help of McCoy's youngest of four daughters, Kim Colette Stout. Beginning last year, Stout gathered photographs, newspaper articles and social security payment records, all to establish that her mother's career began way back when at KMCO, the station whose nickname, "Kim-Coe", inspired Stout's first and middle names.
Stout also gathered witness statements. Robin Bartholet, a family friend, said she took the time to draft a letter in support because there was not "anyone more deserving" of such an honor. Stout submitted the materials to Guinness. It eventually sent an email back.
It said: "Your mother is now the world record-holder."
Stout said she once tried to coax McCoy, her "momma", to retire. She's now glad she didn't succeed.
"All she'd say is, 'Honey, this is what I enjoy doing – this is my life,'" said Stout, who drives momma to and from her show each day. "She'd be lost if she came home and she wasn't going to work every morning."