When Charlotte Walters was promoted to director level at Discover Financial Services, one of her priorities was to work out how to get the best out of her team members. It's a balance most business leaders tussle with – making sure people are motivated and engaged, while also achieving the best possible outcome for the business.
Leading a technical team brings its own challenges for Charlotte, who's the UK-based director of application development for the US digital bank. But it also brings advantages. "Most software developers are here because they enjoy solving complex problems," she says. "They enjoy the challenge of working out how things can be done efficiently to meet the business need and deliver value quickly. The intellectual challenge to design and implement a solution can be incredibly satisfying. That satisfaction is their intrinsic motivation."
In the fintech world of payment settlement and authorisation, a problem they might come across could be determining how to implement business rules in transactions that are disputed. "Teams need to work out smart ways to solve these problems, while making sure systems are secure, performant and meeting compliance obligations," Charlotte says.
Building intrinsic motivation
One of Discover's large programmes of work is shifting core payment systems from legacy technology into cloud-based platforms such as Amazon Web Services (AWS) – work that can be technically challenging, but rewarding. To achieve the success the business needs, Charlotte realised she needed to encourage her team to recognise the sense of internal satisfaction from a job well done.
"As a leader, that is really important to understand. How do you get people to be motivated to work things out, be curious, ask questions and experiment to explore options? You can seek to create the right environment and a great place to work, but people have to understand their own strengths and areas of passion, and be aware of what work types they find personally rewarding," she says.
According to Charlotte, there are three core elements to intrinsic motivation – and none are related to money: "A book called Drive: the Surprising Truth About What Motivates Us by Daniel Pink identifies three things: autonomy, mastery and purpose."
Autonomy means clear goals and parameters can be set out for individuals and teams, but how goals are met, or problems are solved, is up to them. "This relates to people's desire to be self-directed," says Charlotte. "Rather than telling them what to do, give them control. You can give them a framework or guardrails, or set the direction and intent. But they have the autonomy to work out how they do something."
Mastery involves the urge to be better skilled. "Mastery is very motivating, that feeling of getting better," Charlotte says. Discover taps into this desire through its technology academy, which offers training in a wide variety of skills. "Discover recognises there's a constant learning journey for everyone and provides a 'jungle gym' of training offerings," Charlotte says.
Finally, offering purpose means ensuring people understand the bigger picture of what they're doing – the reason they need to complete a particular project, and where it fits into a larger mission. "It's about demonstrating what it will do for our customers. We work in the banking sector and although we're sometimes building backend systems, they play a part in helping someone manage their money, get a credit card or get a loan."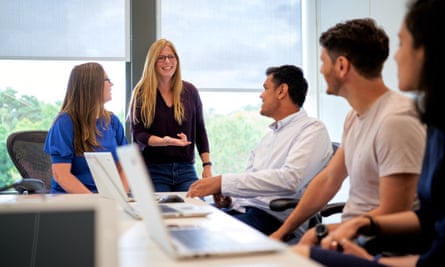 Getting the balance right
Achieving these things, and helping people tap into their intrinsic motivation, takes constant work. "The word that comes to mind all the time is balance," says Charlotte, which involves "trying to be supportive and coach people through, but without mollycoddling them". The goal is to encourage people to become the best version of themselves, she says. "If you can focus on things people are good at and enjoy, you can accelerate those skills."
The ability to cultivate intrinsic motivation relies in large part on the wider corporate culture. "We have a culture that is very collaborative, very focused on improvement and pushing in the same direction, while also allowing us enough choice at team level," says Charlotte. This empowers leaders to support their team in an effective way. "Sometimes I think: 'What am I doing with respect to those three things [autonomy, mastery and purpose] for this team? Is the vision clear enough, have I stated the benefit it will bring and what the impact will be?' Make sure your team has the skills required without telling them how to do their jobs. Clarity and competence are key."
Learn more about Discover's journey from legacy technology to AWS cloud-based platform at youtu.be/JRMheZRarW4
Find out more about the job opportunities and career progression offered by Discover Financial Services