She lies naked, on her belly, palms flat on the pillow. Her skin is dark as wet earth, hair black as night. A traditional Tahitian cloth covers the mattress, marigold yellow petals against midnight blue. The wall behind the bed is violet-dark with phosphorescent flashes of white. At her feet, a shadow crouches with a black shroud covering the head, so that the face appears as a death mask. This old woman at the young girl's feet is a tupapau, or spirit of the dead.
The first time I saw Spirit of the Dead Watching was in 2001 as a tiny colour reproduction embedded within a magazine article about Paul Gauguin's life – how the French painter had left western civilisation behind in order to find an untouched world and a new way of seeing. The article also described how he'd died of syphilis.
The girl in the painting was called Teha'amana and she had been the "child-wife" of Gauguin, when the 43-year-old first arrived on the island of Tahiti in 1891. The artist had taken up with numerous Tahitian girls, who'd become his "muses", lovers and unofficial wives. There was Pau'ura after Teha'amana, and Vaeoho Marie-Rose in the Marquesas Islands, where he died in 1903. He had a Danish wife back in Europe and five children, including a daughter, approximately the same age as Teha'amana. Like Teha'amana, Aline would die young.
I was captivated by that girl, dark-skinned and naked, lying on the painter's bed, vulnerable yet powerful. I felt an immediate connection to her. I knew there was an exploitative relationship at the heart of the image, between the painter and his muse, but first I wanted to know who she was, what had been her truth. When I came to write my first book, I decided to try to tell Teha'amana's story.
But how could I ever do justice to a world and a girl who existed in a time so far removed from all I knew? There were missionary accounts written during western contact such as The Journal of John Davies, Tahiti, 1816 ("And tho none did shew an inclination to return to the heathen system as such, yet many of the young people shewed a strong inclination to return to their former diversions … marking their bodies with the tatau according to former practice") and anthropological studies of Tahitian customs, all of which wove together a complex history of violence and conquest, but nothing about girls and women during the period I was writing about. Nothing about Teha'amana.
After 17 years of wrong turns, many hours of research in the British Library, and pages and pages of notes that never found a form, in the end I wanted to cut through all the historical facts and colonial accounts to tell a simple tale. The story of a girl who went with a French man who would one day make her famous without her knowing, and the millions her image would make; what she'd thought of it and how she'd felt.
I had to imagine her world, her experience, and was drawn to the legends and creation myths of Polynesia, fascinated by how the story of the moon goddess Hina differed across the islands. Each tale was deeply connected to the land and elements of island life. A grant from Creative Scotland allowed me to plan a trip to Tahiti, where I felt sure I would finally find out what had really happened to Teha'amana.
Tahiti was as beautiful as I'd hoped, a landscape that was at once stunning and ominous, with steep mountains rising up into the clouds at the centre of the island. That mountainous region is where the rebels camped out during colonial rule, fighting to keep their traditions alive. These days it is more or less uninhabited, with most dwellings clustered along the coastline, where gated expat communities rub up against Tahitians living in shacks.
Everyone I met was warm and friendly, strangers greeting me with the customary Ia ora na (good day/greetings) but no one seemed to know anything about the girl in the painting. I had three local guides and met historians, artists, journalists and museum directors. When it came to the artist there seemed to be two camps of thought. One respected Gauguin's art and his "symphony of colour". But the other did not want to speak about "the coloniser" because he'd had his say; his vision of their world had been brought to the west and celebrated enough.
Today, tourists come off the huge ocean liners (one is called the Paul Gauguin), and stay in shiny hotels to be entertained in the evenings by young Tahitians performing their traditional dances. It was difficult to find any trace of the place that once existed in Teha'amana's time.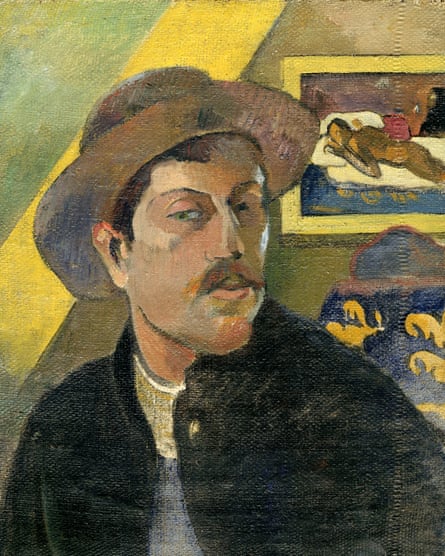 I travelled from the capital Papeete, which was once the main port town where Gauguin's ship would have landed, to the village of Mataiea, where Gauguin lived with Teha'amana. The hut where he'd made that painting, and others, has disappeared, though her image is plastered across rum bottles and biscuit tins in the souvenir shops.
The death certificate that I unearthed from the archives, which Bengt Danielsson, Gauguin's biographer, claimed was hers, also did not add up. According to the dates, she would have been a one-year-old when she met Gauguin, and there was no record of the two sons she is reported to have had after Gauguin left. My Tahitian guide found Teha'amana's descendants in the village of Faaone but they did not want to speak to me. I was an outsider. What gave me the right to come seeking her story?
The scars of Tahiti's past remain. The white men had come, beginning with the British explorer Captain Wallis in 1767, and in less than 50 years they had destroyed an ancient way of life. The island turned to Christianity in 1812 through the conversion of the Tahitian king Pomare II to Protestantism, and the Pomare Legal Code, set up by the London Missionary Society, banned much indigenous culture, from the making of tapa (traditional cloth) to the speaking of the Tahitian language.
But histories, genealogies, myths and legends were passed down orally, through the male lineage. The ancient Tahitian priests taught their sons to carry what they knew into the future. And it was one of these descendants that I met on my penultimate day in Tahiti, on a marae (temple site). His great-grandfather had known the history of the families from Teha'amana's village. He told me she had been younger than 13 when she met Gauguin, and that he had given her syphilis. That after he'd left, her family had taken her home and kept her there until she died, and that she is buried in their village. She never had any children.
In Gauguin's Tahitian journal, Noa Noa, he tells the reader how he met "Tehura", whom he describes as wise beyond her years, and how she taught him about the stars and the myths and legends of her people. He saw all of her race reflected in the depths of her eyes. She was unspoilt by progress and his first perfect muse. The artist's paintings are difficult for people to accept today because we recognise the exploitative nature of his gaze: the colonist's eye. But that painting opened a doorway for me into Teha'amana's world. Without it, the power that it exudes, I would never have embarked on a journey to discover her truth and her voice.