Allan Jenkins, Observer Food Monthly editor, was born in Plymouth and entered the care system at eight weeks. He was fostered at the age of five
They call us "care-experienced", motherless children brought up in care homes. My brother Christopher and I were fostered in the 1960s, raised from infants by an elderly couple. They had met and married too late for kids of their own.
It went well for a while. Within weeks, they'd switched my Christian name and later gave me their surname. Chris was less favoured – a year older, he was maybe more broken, more angry. His names stayed the same.
I recovered more quickly from the care home, devouring books and attention. Eager, anything to please, which worked until puberty.
I was later sent to boarding school and Christopher was packed off into the junior army. We were no longer little boys. After about a year, I was suspended from school: something to do with sex and drugs. A social worker picked me up. Our family was finished. I reclaimed my name.
For years, I would write them long letters. Starting, dear mum and dad. She couldn't, wouldn't reply. They weren't built for the 1970s: he with his military moustache and beret, her with her pewter perm. But much of who I am was shaped by safety with mum and dad. She had a brittle kind of kindness which wasn't always suited to the task. She lived in dad's long shadow.
We were good in her last years – reconciled, walking, talking. The cup rattling as she poured the tea. It was her birthday last week and Mothering Sunday today.
I remember her when I walk by a river, when I stand by a winter sea, when I see spring snowdrops and primroses. I obsessively grow the flower seeds my foster parents first gave me, I think of her and silently thank her. She was family. My mum.
Miranda Sawyer, radio critic, was raised in Manchester and lives in London with her family
I've been a daughter a lot longer than I've been a mother, and I've got better at it over the years. When I was younger, I tended to only get in touch with my mum at my life's extremes: when things were either in the gutter, or soaring to the stars. Now, we're in regular, low-key contact at all times, chuntering about idiot politicians, recounting the ins and outs of life, as though we lived together and were on the sofa, eating biscuits, watching Repair Shop.
Text is the running water of our relationship. We Wordle daily, first thing, messaging when we're done, offering clues when we're stuck. She texts me about her aqua aerobics, how my dad's GP appointment went. I phone her for a chat when I'm walking the dog.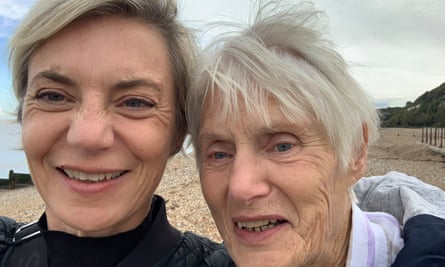 It's been almost 40 years since I've lived anywhere near my parents. Sometimes I see other people's families, their Sunday lunches, full of cousins, their casual popping over to each other's houses, and I think: my mum would like that. My side of the family is small, but everyone's very particular about what they want to do, where they want to go, what makes a good holiday or day out or place to eat, so it's often easier when it's just my mum and me. We know what we like: bit of charity shopping, bit of culture, a paddle if we're at the seaside, a cup of coffee and a slice of lemon drizzle. We went to Venice last year for four days, and it was completely great.
As for being a mother myself, I feel as if I'm still learning how to do that one, even though I've been doing it for 17 years. A lot of my closest friends don't have kids, and I enjoy that. It's freeing, not to think about parental preoccupations. The other day, the kids had a terrible row, their dad was away and I genuinely had no idea what to do, how to make it all work better. It was beyond my capabilities.
Nobody tells you, when you become a mother, that your default thought will be: I don't know! Don't ask me! I haven't a clue! Find someone who's qualified! (The qualified one is, of course, your mum.)
Rhik Samadder is a writer and actor who lives in London
I've always been struck that the word matter comes from the Latin mater. OK, I was struck by it once about 10 years ago, and forgot until now. How true, though, that mothers are the ground of our being; our worlds formed around their values. And sometimes in opposition to them. My mother is a character. She's 80 this year and has taken up dance classes. She pioneered a cooking style called medley, which might tumble custard, mini eggs and popcorn together. She sings to herself, and talks to trees. As an adolescent, I was Saffy to her Edina: essentially serious, endlessly mortified. Why wasn't she like other mothers? I only wanted to fit in.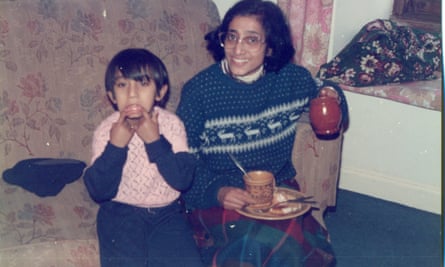 Like the best characters, she has depth. She reads Dante in Italian, has taught Sanskrit and studied Russian. I inherited her creativity, but only partly. Her house overflows with weird sculptures, jury-rigged canvases. Everything is art to her. Some of it is beautiful. Some of it is a harrowing collage of bean figures and feathers, peacocks with pennies for eyes. As a young writer, I suffered constipations of perfectionism, still wanting to fit in.
My mother came here from India in 1979, with little. She left a country of sun, caste hierarchy and rigid gender roles, to find one riddled with racism, rain and turnips. I inherited loss, too. My mother tongue was not my own, the motherland somewhere only visited. Funnily enough, I don't mind this now. When your horizon is far, it sharpens your eyesight.
Things only came together when I infused my writing with beans and peacocks, recovered sunshine. When I finally accepted we didn't belong here, or anywhere. No artist really does. Now I appreciate the uses of silliness, the wisdom of play. It was more than a creative lesson. The alchemy of suffering and joy, the imperative to choose your life. This is what matters. This is what she taught me.
Séamas O'Reilly, the Observer's parenting columnist, grew up in Ireland with his father and 11 siblings. His mother died when he was six
I have no memory of the first four Mother's Days I had with my mum. On the fifth, I have no memory of my mother herself, but I do recall my father unveiling a microwave, in the manner of a 1960s sitcom dad gifting his wife a mop for her birthday. The sixth, I believe, she spent in hospital in Belfast, undergoing treatment for the breast cancer that would end its four-year assault on her body just six months later.
Presumably, we visited her on that occasion, and it might be that my vapour-thin recollection of sitting in a hospital ward – her tired, milky-blue face plastered with tubes – was from that day.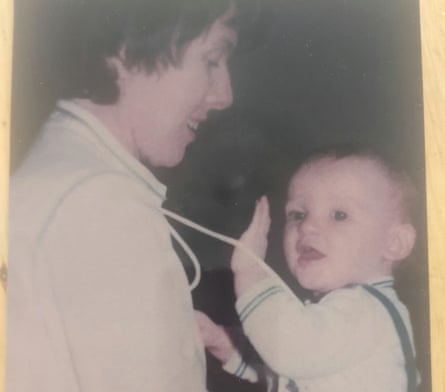 Perhaps, if I were transported there right now I would look down to see a crumpled homemade card in my hand, festooned with the crepe flowers and glued-on baubles by which children announce their gratitude.
In primary school, teachers would grow nervy and kind when Mother's Day rolled around, presuming this to be a particularly difficult day for the young half orphan in their class.
This was humane of them. I resented it. Not because I found the day tough, but because back then it seemed an arbitrary checkpoint, one which had as little bearing on my living, clawing grief as Pancake Tuesday.
For decades, grief grew, shrank and morphed into its own strange shapes, but for the past four years, I've celebrated Mother's Day as a father and husband. I feel the loss more keenly now than I have since boyhood. A pain long-dormant rushes back, albeit suffused with, and overwhelmed by, stinging joy.
My eyelid plucks as my son presents his homemade card to his mum in bed. I treasure arbitrary acts of love once more. I am grateful that I get to watch motherhood up close again, and glory in the heart-swelling gratitude of children.
Bidisha Mamata, Observer columnist, is an only child born and raised in North London
My mother is the only person I love, the only person I trust and the only person I talk to about everything. She has human qualities that I admire hugely: she is practical, tough, worldly, clear, judicious, effective, and ambitious. She has exceptional managerial, diplomatic and business skills. She means what she says, says what she means and always shows up. And she's always on my side.
I'm so close to her, in fact, that I bristle when asked to write about her. The way society talks about mothers is so laden with cliches, patronising ageism, misogyny and (in our case) racism, assumptions and stereotypes, that it makes me burn with pre-emptive rage. Serving up some exotic origins tale, strong-survivor fable or women-in-STEM success story (she's a computer scientist, her background is in maths and physics) couldn't come close to my reality and its bottomless, timeless depth of intelligent support.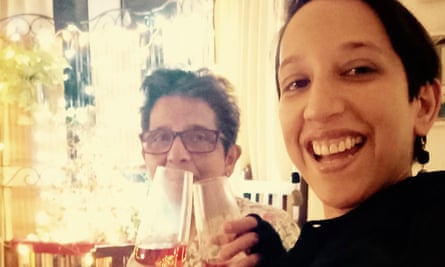 But just because I've been the recipient of this maternal love for 44 years doesn't mean I can pay it forward. I don't have the steady commitment, normal realism or a warm heart. I don't want a family. That said, a couple of weeks ago one of my oldest friends came over for a weekend walk. My mum made us some banana fritters to take with us and I did think for a passing moment that it might be nice, in some parallel dimension, to have a daughter to make banana fritters for.
Kathryn Bromwich, New Review commissioning editor, was born in Bologna to an English father and Italian mother
I was a very conservative child. I was confused, once I started school and was exposed to my classmates' family dynamics, as to why my parents had waited so long to get married (eight years), and why my mother didn't have me until the (at the time ancient-sounding) age of 33. Since then I've become more forward-thinking – it took 14 years with my partner before we tied the knot, and at 35 I am still unencumbered by any children.
My brilliant mother is a nuclear engineer who for many years worked for the the Comprehensive Nuclear-Test-Ban Treaty Organization (associated with the UN), travelling the world from Easter Island to Mongolia in an effort to curtail nuclear testing. My father and I always half-joke that her job is saving the world, which simultaneously makes me feel intimidated, proud and inspired, especially considering how male-dominated an environment that world is.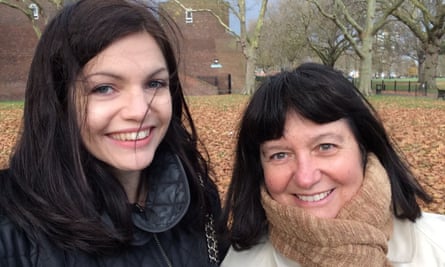 Throughout all this, she has been warm and loving and supportive (with a steely edge when necessary), always there for me when I need her most. From her, I've learned many things, such as caring about style but not trends, and that simple, nourishing recipes are often the best food you'll ever eat. I'm now at the age where I need to figure out whether I'm going to have a family, which for various medical reasons would be a complicated process. My bond with my mother is deep and close and incredibly important to me. But if I won't be able to replicate it with a child of my own, my mother has shown me that women can be many things, leading fulfilling and meaningful lives outside the family – even if we can't all save the world.
Alex Moshakis, commissioning editor for the magazine, lives in Hertfordshire with his family
My wife became a mother in 2016, then again four years later. A few months after each birth, she became perilously unwell, spent several weeks in hospital, and several more months in recovery. When she was first ill, our son stayed in hospital with her. I would visit them both for an hour a day, then return home, ill at ease, to be alone. Whatever my wife might have expected of motherhood, its magic, or of the transition from young woman to mother, I recall assuming this was not it.
These are months I will never forget. And they very painfully slammed home something about motherhood I hadn't understood : becoming a mother is to give up something of yourself to that which you consider to be more worthy.
My wife recoils at me using the word "sacrifice". She does not believe in the idea, which I think of as a testament to her strength. When we were considering a second child, my wife was told there was a significant chance she would become unwell again. I don't know many decisions as courageous as the one she made to go ahead in any case. Now, here we all are, just about thriving, our kids and me and my wife, a mother.