Japan's labour unions confirm average wage hikes of 3.8pc, a three decade high
March 18, 2023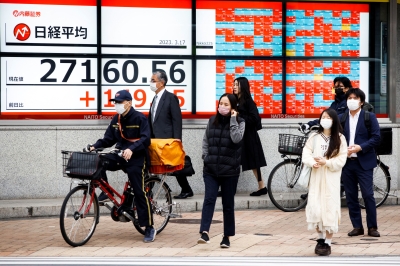 TOKYO, March 17 — Japan's major companies have concluded their annual labour talks with average wage hikes of 3.8 per cent for the coming fiscal year, the largest raise in about three decades, trade union confederation Rengo said today.
The preliminary survey of 805 unions affiliated with Rengo showed the average hike rate of ¥11,844 (RM401) per month, according to the labour organisation.
While changes in the way the survey is conducted make it difficult to compare with historical data before 2013, this is the first average pay hike of more than 3 per cent since 1994, Rengo officials told a news conference on the spring wage talks.
"Many unions received in full or exceeded their demand for wage hikes," Rengo chief Tomoko Yoshino told a news conference.
She added that consumer price rises had hit workers hard and companies had responded in a "gentle and meaningful manner" to unions' requests on pay hikes.Prime Minister Fumio Kishida has called for higher wages to offset rising living costs, stepping up his call as a weak yen currency and higher commodities prices have driven up import costs, sending inflation to its highest in four decades.
While Japan's top firms concluded the talks on Wednesday, wage negotiations will get into full swing at small and medium enterprises from April to June.
Rengo, also known as the largest Japanese Trade Union Confederation, will update the pay negotiation results in several stages before compiling the final results in summer.
Japanese salaries have been virtually unchanged since the late 1990s and are now well behind the average for the OECD grouping of rich countries.
While Japan's biggest corporations — including Toyota Motor Corp and Hitachi Ltd — have agreed to the requested increases from unions, the outlook looks less positive for workers at smaller companies — which make up almost 70 per cent of Japan's workforce.
Those businesses have often struggled to pass on rising costs to their customers. It's unclear whether the rising wage trend will be sustainable, let alone create the "virtuous cycle" of stronger economic growth and 2 per cent inflation long sought by Japan's central bank. — Reuters