Bursa Malaysia higher at lunch break, CI up 1.47pc 
March 18, 2023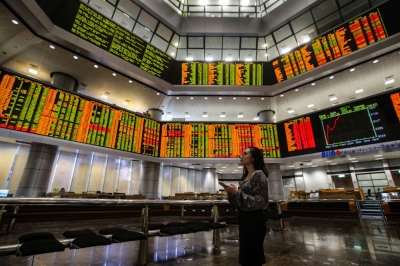 KUALA LUMPUR, March 17 — Bursa Malaysia ended the morning trading session higher, in tandem with the uptrend in regional markets, amid increased optimism on Wall Street over the US banking crisis, said an analyst.
At lunch break, the benchmark FTSE Bursa Malaysia KLCI (FBM KLCI) gained 20.39 points or 1.47 per cent to 1,411.99 from Thursday's close of 1,391.60.
The market bellwether opened 5.68 points higher at 1,397.28, and subsequently moved between 1,397.23 and 1,412.26 throughout the session.
Market breadth was positive with gainers trouncing losers 578 to 221, while 351 counters were unchanged, 1,115 untraded and 27 others suspended.
Turnover amounted to 2.14 billion units worth RM1.32 billion.
In a note, Malacca Securities Sdn Bhd said, despite the optimism in the local and regional markets, Wall Street's rebound could be short-lived as investors are likely to trade in a cautious mode while keeping an eye on the US Federal Reserve's interest rate decision next week.
"As for local bourse, we reckon that the technology sector will gain momentum following a strong rebound on Wall Street overnight, particularly the tech-heavy Nasdaq Composite which surged 2.48 per cent.
"Besides that, the healthcare sector may shine as investors anticipate higher average selling prices of gloves which may cushion the rising cost. We continue to favour sectors such as consumer staples, REITs, and utilities," it said.
Meanwhile, Bursa Malaysia heavyweights Maybank rose 15 sen to RM8.41, Public Bank gained six sen to RM3.99, Petronas Chemicals added four sen to RM7.03, CIMB perked up 10 sen to RM5.25, and TNB jumped 20 sen to RM9.55.
Among the actives, Top Glove put on 2.5 sen to 86 sen, Capital A bagged seven sen to 84.5 sen, Vinvest Capital climbed half-a-sen to 22.5 sen, while SMRT Holdings lost 4.5 sen to 52 sen, and Hong Seng Consolidated eased half-a-sen to 14.5 sen.
On the index board, the FBM Emas Index chalked up 141.53 points to 10,322.70, the FBM 70 Index shot up 154.48 points to 13,286.01, the FBMT 100 Index gained 137.97 points to 10,016.11, the FBM Emas Shariah Index rose 141.60 points to 10,622.87, and the FBM ACE Index garnered 60.59 points to 5,251.36.
Sector-wise, the Financial Services Index soared 232.77 points to 15,586.66, the Energy Index edged up 10.48 points to 823.85, the Plantation Index increased by 104.24 points to 6,785.62, and the Industrial Products and Services Index inched up 1.40 points to 169.08. — Bernama