Bursa Malaysia ends sharply higher as fears over global banking crisis ease
March 18, 2023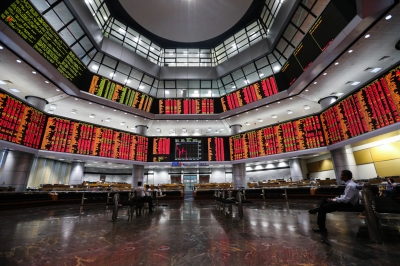 KUALA LUMPUR, March 17 — Bursa Malaysia rebounded and ended sharply higher today, in tandem with the recovery across regional markets and on Wall Street overnight as worries over a global banking crisis receded, said an analyst.
At 5pm, the benchmark FTSE Bursa Malaysia KLCI (FBM KLCI) jumped 20.13 points, or 1.45 per cent, to 1,411.73 from Thursday's close of 1,391.60.
The market bellwether opened 5.68 points better at 1,397.28 and moved between 1,397.23 and 1,416.92 throughout the day.
Market breadth was positive with gainers thumping decliners 711 to 244 while 349 counters were unchanged, 961 untraded and 27 others suspended.
Turnover amounted to 4.43 billion units worth RM4.09 billion.
Malacca Securities Sdn Bhd senior analyst Kenneth Leong said the FBM KLCI staged a strong rally today, taking the cue from a rebound on Wall Street after US major banks pledged to inject US$30 billion in liquidity to rescue First Republic Bank.
"Meanwhile, RAM Ratings reassured that Malaysian banks' ratings remain intact given that the domestic banking system's exposure to bond securities is relatively low at less than 25 per cent compared to Silicon Valley Bank at more than 50 per cent exposure to bond securities," he told Bernama.
Echoing Leong, Rakuten Trade Sdn Bhd vice-president of equity research Thong Pak Leng said reports of major US banks collaborating to rescue First Republic Bank has boosted confidence in the US banking system.
Among the heavyweight stocks, Maybank added 12 sen to RM8.38, Public Bank advanced four sen to RM3.97 and Petronas Chemicals surged 24 sen to RM7.23.
CIMB climbed seven sen to RM5.22 and TNB improved 20 sen to RM9.55.
Among the actives, Top Glove Corporation rallied eight sen to 91.5 sen, Capital A jumped 5.5 sen to 83 sen, and Zen Tech International grew by one sen to three sen.
Minda Global garnered three sen to 14.5 sen and SMRT Holdings shaved 5.5 sen to 51 sen.
On the index board, the FBM Emas Index chalked up 155.23 points to 10,336.40, the FBM 70 Index surged 234.12 points to 13,365.65 and the FBMT 100 Index jumped 150.74 points to 10,028.88.
The FBM Emas Shariah Index expanded 185.97 points to 10,667.24 and the FBM ACE Index garnered 58.17 points to 5,248.94.
Sector-wise, the Financial Services Index recovered 185.82 points to 15,539.71, the Energy Index edged up 9.49 points to 822.86 and the Plantation Index increased by 190.94 points to 6,872.32.
The Industrial Products and Services Index was 2.37 points better at 170.05.
The Main Market volume widened to 2.9 billion shares worth RM3.69 billion from Thursday's 2.15 billion shares worth RM1.85 billion.
Warrant turnover fell to 499.27 million units worth RM77.84 million from 511.37 million units worth RM76.38 million previously.
The ACE Market volume rose to 1.03 billion shares worth RM320.82 million from 865.90 million shares worth RM292.68 million yesterday.
Consumer products and services counters accounted for 749.29 million shares traded on the Main Market, industrial products and services (451.70 million); construction (46.11 million); technology (265.31 million); SPAC (nil), financial services (118.49 million); property (105.56 million); plantation (50.11 million); REITs (11.93 million), closed/fund (16,100); energy (244.63 million); healthcare (636.58 million); telecommunications and media (94.22 million); transportation and logistics (81.24 million); and utilities (40.50 million). — Bernama