Bursa Malaysia ends marginally higher on last minute buying
February 5, 2023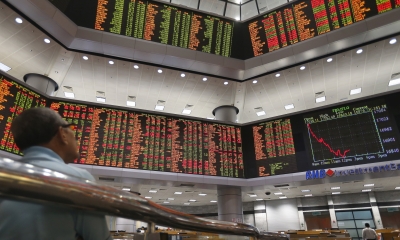 KUALA LUMPUR, Feb 3 ― The FTSE Bursa Malaysia KLCI (FBM KLCI) reversed earlier losses and finished in positive territory, reaching the 1,490 level due to last-minute buying on heavyweights amid mixed performance by its regional peers.
At 5pm, the benchmark FBM KLCI went up 0.67 of-a-point to 1,490.47 compared with yesterday's close of 1,489.80.
The benchmark index opened 0.76 of-a-point firmer at 1,490.56 and moved between 1,485.25 and 1,493.34 throughout the session.
However, market breadth was negative with losers leading gainers 510 to 443, while 388 counters were unchanged, 829 untraded and 20 others suspended.
Turnover narrowed to 4.36 billion units worth RM2.41 billion against Thursday's 5.14 billion units worth RM2.95 billion.
Rakuten Trade Sdn Bhd vice-president of equity research Thong Pak Leng said that on the domestic front, the FBM KLCI was stuck in a consolidation mode as investors seemed reluctant to make significant moves due to the uncertainty of the global economy.
"We can see that the global market is uncertain due to a lack of direction, but for Bursa Malaysia, we still can see strong support from investors," he told Bernama.
He added that regionally, key indices trended mixed following Wall Street's cue overnight as disappointing earnings from US tech giants undermined sentiment ahead of the US payrolls report.
The regional key indices were mixed, with Japan's Nikkei 225 adding 0.39 per cent to 27,509.46, while Hong Kong's Hang Seng fell 1.36 per cent to 21,660.47, Singapore's Strait Times Index perked up 0.49 per cent to 3,380.04 and South Korea's Kospi added 0.47 per cent to 2,480.40.
Back home, gainers among heavyweights were led by Petronas Chemicals, which climbed nine sen to RM8.31, IHH added eight sen to RM6.03, Press Metal rose six sen to RM5.36, MR DIY gained five sen to RM1.90, while Kuala Lumpur Kepong raked in 26 sen to RM22.02.
Other heavyweights Maybank was one sen lower at RM8.71, Public Bank was flat at RM4.21 and CIMB lost four sen at RM5.66.
As for the actives, Borneo Oil was unchanged at two sen, Hong Seng lost 2.5 sen at 19 sen, Zen Tech and Sapura Energy each lost half-a-sen to 6.5 sen and 4.5 sen respectively, while Ta Win was flat at seven sen.
On the index board, the FBM Emas Index advanced 8.35 points to 10,886.35, the FBMT 100 Index rose 8.80 points to 10,547.89 and the FBM Emas Shariah Index jumped 27.25 points to 11,212.27.
The FBM 70 Index added 28.95 points to 13,884.99 and the FBM ACE Index shot up 31.91 points to 5,843.23.
Sector-wise, the Industrial Products and Services Index was up 1.48 points to 191.75, the Plantation Index was 23.57 points stronger at 6,927.24 but the Energy Index lost 1.46 points to 906.11 and the Financial Services Index dipped 26.82 points to 16,314.82.
The Main Market volume decreased to 2.93 billion shares worth RM1.89 billion compared with Thursday's 3.93 billion shares worth RM2.54 billion.
Warrants turnover increased to 290.29 million units worth RM54.02 million from 324.53 million units worth RM54.48 million previously.
The ACE Market volume ballooned to 1.13 billion shares worth RM454.44 million from 887.88 million shares worth RM349.22 million on Thursday.
Consumer products and services counters accounted for 301.22 million shares traded on the Main Market, industrial products and services (1.02 billion); construction (88.45 million); technology (583.41 million); SPAC (nil), financial services (74.09 million); property (184.27 million); plantation (48.53 million); REITs (10.78 million), closed/fund (2,000); energy (459.20 million); healthcare (60.27 million); telecommunications and media (31.60 million); transportation and logistics (61.54 million); and utilities (12.61 million). ― Bernama