Analysts lower earnings forecasts for Top Glove following weak 2Q results
March 18, 2023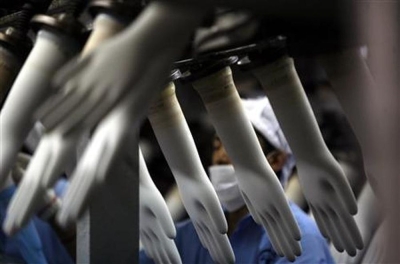 KUALA LUMPUR, March 17 — Analysts are lowering their earnings forecasts for Top Glove Corporation Bhd after the world's biggest glove manufacturer reported lower-than-expected results for the second quarter ended February 28, 2023 (2Q FY2023).
MIDF Research said that given that the earnings came in below its estimation, it was reducing its FY2023 earnings forecast from a net profit of RM55.7 million to a net loss of RM503.6 million and also cut its earnings forecasts for FY2024 and FY2025 by 46 per cent and three per cent, respectively.
"This is after accounting for higher production costs per unit due to poor utilisation and rising electricity tariffs, which more than offset the average selling price (ASP) adjustment," it said in a note today.
The research house has raised its blended ASPs for FY2023-FY2025 from US$18.3-US$20 (US$1=RM4.48) per 1,000 pieces to US$19.5-US$21.7 per 1,000 pieces.
According to MIDF Research, it remains cautious about Top Glove's FY2024 outlook mainly due to the limited room to pass on the increased cost via price adjustments as customers can easily switch to other glove makers that offer competitive prices.
"Besides, we think that the group may remain in the red for the next one to two quarters before attaining break-even due to the margin compression on the back of the ongoing oversupply of glove situation and rising input costs," it added.
The research house also said with a net loss expected in FY2023, it did not anticipate a dividend payout in FY2023.
MIDF Research maintained a "sell" call on Top Glove but raised the target price (TP) to 55 sen from 42 sen previously.
Meanwhile, Maybank Investment Bank (Maybank IB), which also made a "sell" call with a higher TP of 57 sen (35 sen previously), said it expected Top Glove to turn around only in FY2025.
"We now expect FY2023 net loss to expand to RM507 million (up 56 per cent from an earlier forecast), continuing into FY2024 with a RM154 million loss," it said.
Maybank IB Research said this was after factoring in the lower plant utilisation rates of 33 per cent, 50 per cent and 60 per cent for FY2023, FY2024 and FY2025, respectively (from 40 per cent, 60 per cent and 65 per cent previously) as well as higher blended ASP assumption of US$21, US$22 and US$23 per 1,000 pieces, respectively (from US$20, US$21 and US$22 earlier).
Yesterday, Top Glove announced a net loss of RM164.67 million for 2Q FY2023 compared to a net profit of RM87.55 million in 2Q FY2022, and a lower revenue of RM618.01 million from RM1.48 billion a year ago.
At 2.30 pm, the company's shares gained 2.5 sen to 86 sen each with 146.76 million shares traded. — Bernama